We Dropped Something



We Dropped Something
Allison Maria Rodriguez
3-channel video installation, 2018
---
Artist Statement
A forgotten rocket in the middle of a pristine landscape, the threat of lost explosive devices, an abandoned railroad that disconnects an entire population from their essential resources . . .
"We Dropped Something" is a piece that explores the relationship of the United States to the landscape of Churchill Manitoba. Imagery of remaining detritus from the US Army's overseeing of the Churchill Rocket Range in the 1970s is juxtaposed alongside the recently flooded US-owned Hudson Bay Railway. The railroad was a lifeline for the isolated people of Churchill, broken in May 2017 by the accelerated effects of climate change, resulting in an extended dispute over who should clean up the mess. The piece evokes the calm stillness and beauty of the northern landscape, a landscape that is fleeting and threatened in an increasingly warming climate.
"We Dropped Something" was filmed during an Earthwatch Fellowship in 2018 and is a departure from my customary multi-medium style of animated magical realism. In this instance, I felt the quietness of the landscape in its true form would speak the loudest.
---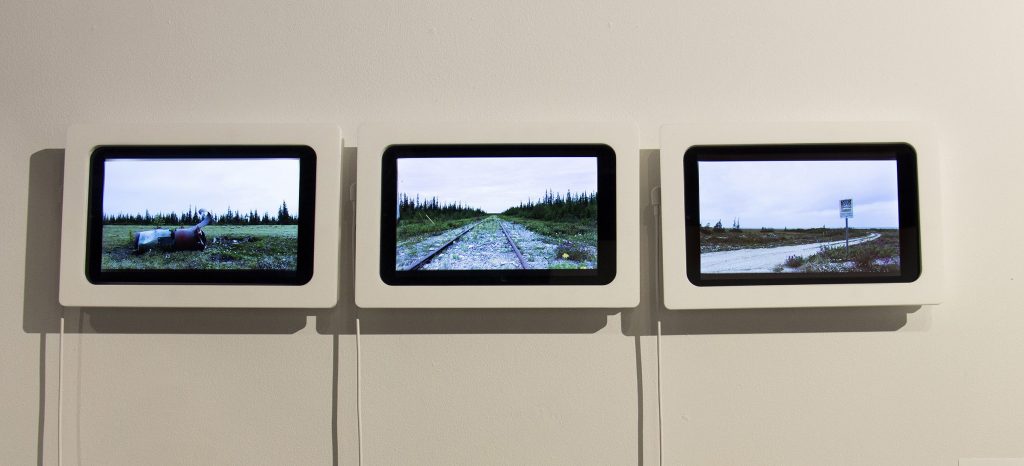 We Dropped Something
video installation (6.5″ x 30″ version), Dec 2018
documentation at Fountain Street Gallery