In the Presence of Absence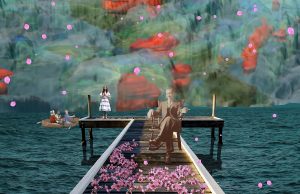 "In the Presence of Absence – José María & Ike" (video still)

In the Presence of Absence
by Allison Maria Rodriguez
multi-channel video installation, 2017-2020/ongoing
---
Artist Statement:
In the Presence of Absence is a multi-channel video installation exploring the intimate, yet collective, experience of ecological and cultural loss embedded in contemporary reality. The piece merges two primary conceptual concerns of my artistic practice: my Latinx identity and environmental conservation. It is a very personal work. Through merged representations of the hybridity of my Cuban-American identity, deceased family members, extinct animal species, and climate change, I endeavor to create a series of new pictorial spaces. These spaces are fantastical landscapes in which past and present, memory and fantasy, known and unknown, the cultural and the ecological, converge to gain simultaneous visual actualization. The work navigates between worlds and draws attention to the abyss – the lack or emptiness we encounter when we are disconnected from another species or distanced from our own culture– and the acts of appreciation and mourning that work to keep collective memory alive.
---
In the Presence of Absence (installation documentation)
---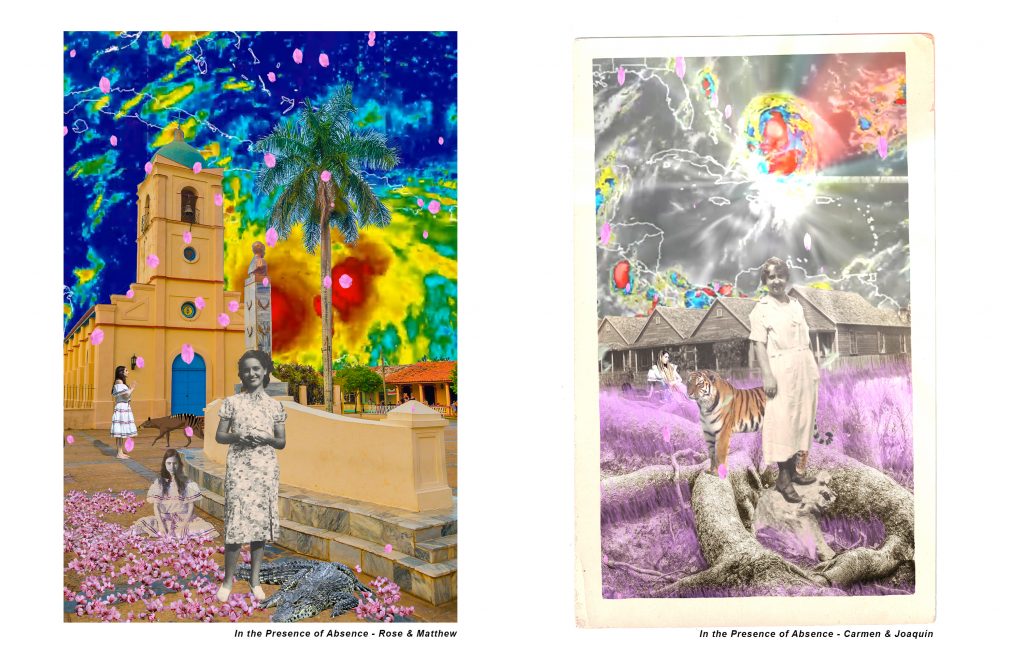 Left: In the Presence of Absence – Rose & Matthew (video still)
Right: In the Presence of Absence – Carmen & Joaquín (video still)
---
In the News:
The Boston Globe published "At the BCA, an Artist's Show-Stopping Video Ties Personal Loss to Ecological Disaster" written by Cate McQuaid online on 9/25/19, also titled "The Personal is Ecological" in print on 9/27/19. This article reviews the exhibition "Contours of Meaning" curated by Jameson Johnson at the Boston Center for the Arts, and references Rodriguez's work in the title and features an image from In the Presence of Absence, her immersive video installation.  You can find the article online or see a jpeg of the print edition here.
---
*additional imagery and documentation coming soon