Unknown Refuge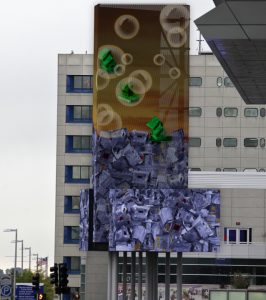 Unknown Refuge
Allison Maria Rodriguez and Nathalie Miebach
Public Art Commission for "Art on the Marquee"
seven screen video installation, approx: 80ft x 24ft
on display June 2016 – October 2016
Unknown Refuge metaphorically explores the crisis of mass human migration. Both historically and within the current cultural climate, this crisis is often ignored, forcing those already fleeing persecution to plunge themselves blindly into the unknown. Will they have a safe place to sleep tomorrow? The piece operates with heavy symbolism. The small houses represent the individual human lives that are often enveloped by political discourse into a faceless, nameless mass . . the towers of houses that rise up, piling upon one another, reference what is cast aside and thereby grows more dire . . and the bubbles function to suggest a glimmer of hope, the motivating force that would drive individuals to risk everything, including their lives, for the possibility of refuge.
VIDEO LINK:  Watch a 3-D video simulation of Unknown Refuge.
---
---
About "Art on the Marquee":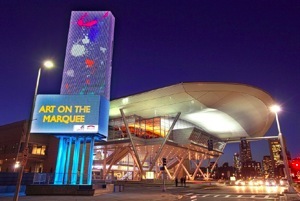 Boston Cyberarts and the Massachusetts Convention Center Authority have teamed up to create "Art on the Marquee," an ongoing project to commission public media art for display on the new 80-foot-tall multi-screen LED marquee outside the Boston Convention & Exhibition Center in South Boston. The largest urban screen in New England, this unique digital canvas is one of the first of its kind in the U.S. to integrate art alongside commercial and informational content as part of the MCCA's longstanding neighborhood art program.
"Art on the Marquee" offers artists more than 3,000 square feet of digital display on seven screens, providing full-motion video and a viewership of more than 100,000 pedestrians and motorists. The marquee is visible for a half a mile in many directions and is seen by traffic on Summer, D, and Congress streets, as well as from the surrounding hotels, office buildings and the Seaport World Trade Center.