Wish You Were Here: Greetings from the Galápagos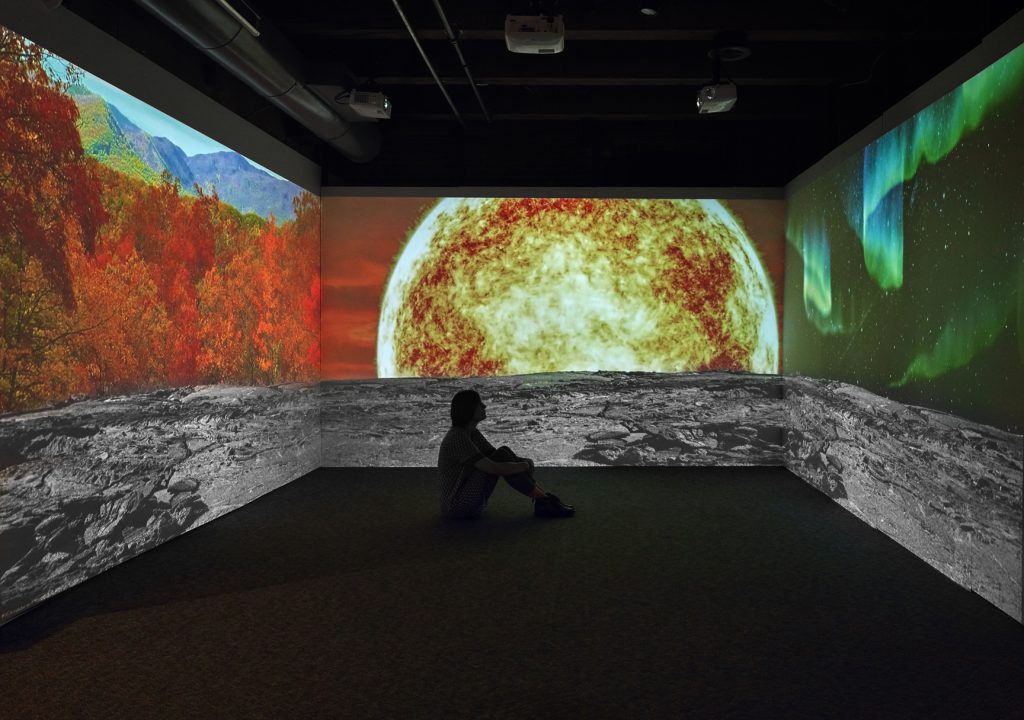 Wish You Were Here: Greetings from the Galápagos
by Allison Maria Rodriguez
video installation at the Boston Children's Museum, 2018
---
Project Description

Wish You Were Here: Greetings from the Galápagos is a three-channel experiential video installation exploring climate change, species extinction, and political agency. Through an assortment of mediums and strategies (digital animation, live action video, photography, collage, traditional drawing, performance and installation) this piece generates an immersive environment that navigates the unsteady terrain between conservation and consumption, environmental advocacy and tourism, sustainability and exploitation.
Extinct animals emerge while threatened animals of the Galápagos transition into extinction, visually passing from living to memory to myth. A human figure (the artist) moves within the landscape as both a guardian of collective memory and as an embodiment of present-day eco-consumerism. The work makes reference to the earth as a conscious being that experiences climate change as trauma – impact in one sphere creates profound effect in another. Abstracted brain scan imagery, animated synaptic flashes, and the interactive compartmentalization occurring on all three screens is utilized to convey the interconnectivity of human action/impact, as well as how human existence is directly linked to the existence of other species.
By placing the viewer within this magical realist landscape, the artist explores the limitations of language and works to activate a deeper form of connection with other species and our planet. The piece intends to create an alternative space – a space of meditation and reflection – providing the opportunity for an intimate moment that will ignite dialogue and encourage radical thinking about the current culture surrounding environmentalism.
---
This slideshow requires JavaScript.
Wish You Were Here: Greetings from the Galápagos
by Allison Maria Rodriguez
video installation at the Boston Children's Museum, 2018
(documentation by Stewart Clements)
---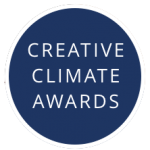 Announcement
Wish You Were Here: Greetings from the Galápagos won the grand prize at the Human Impacts Institute's 2017 Creative Climate Awards at the Taipei Economic and Cultural Office (TECO) in New York City. The award was chosen by an 8-person jury composed of artists, scientists, policy makers, curators and media experts.  To learn more about the CCA artists, judges, and events please visit the 2017 CAA web page. An article on the night's event can be found in Asian in New York.

---
---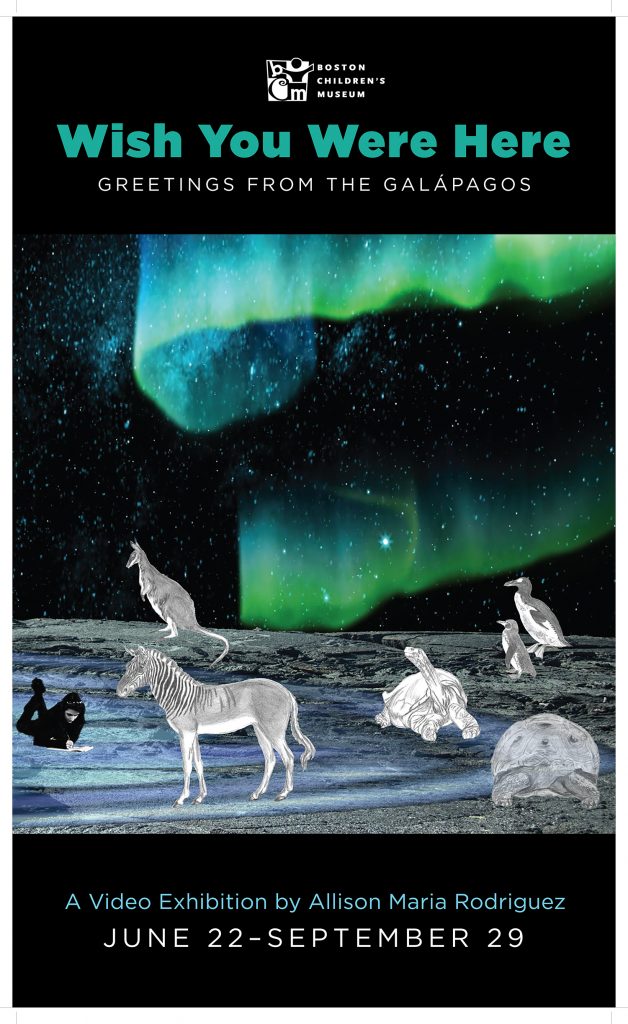 Articles on Wish You Were Here: Greetings from the Galápagos:
"Flickering at the Edge Should Serve as a Warning Beacon", Columbus Alive, Andy Downing, Entertainment, Oct. 15, 2020
"Grieving Our Earth, Artist Allison Maria Rodriguez Creates 'Chapel To The Apocalypse' In Dorchester" by Pamela Reynolds, WBUR's The ARTery, February 14, 2018.
"Creative Climate Awards Closing Reception", by Rubianny Alvarado, Asian in New York, November 18, 2017.
"Confronting Earth's Trauma", by Allison Maria Rodriguez, Artists & Climate Change, June 29, 2017.
This article was also cross-published on The Center for Sustainable Practice in the Arts website on July 3, 2017.